Snarky Puppy's Grammy Award-winning music, by nature of its virtuosity and sheer brilliance, is respected in the highest regard by groove makers and audiences alike. Fans came to Sunday's show at the Carnegie Music Hall of Homestead to hear a fresh musical experience. They came out to the show to be wowed. The opportunity to see Snarky Puppy perform was an opportunity to watch masters in the technical art of music.
Opening act Charlie Hunter was a strong, pleasant introduction to the night. With a seven-string guitar/bass hybrid, he quickly piqued everyone's interest. His playing was soulful, awe-inspiring, bluesy, light-hearted, sweeping and impossible to imagine. He made his playing style look effortless. His charisma on stage was unmatched, further exemplified by playing two instruments at once. He knew how to make a crowd laugh. Charlie Hunter was a clown to the audience as much as he was an entertainer to his musicians. Or an entertainer to himself, for that matter. He plucked out little musical jokes with his guitar, laughing casually in response to his own goofy wit. Unexpectedly to Hunter, his voice projected through to the audience, both when he laughed and when he gave instructions to his band, Snarky Puppy drummer Jason Thomas and horn players Justin Stanton and Chris Bullock.
Snarky Puppy began their set with a light tune off of their 2015 album, Sylva. In their own unassuming way, Snarky set the tone for the rest for the night. The ethereal nature of the first tune was followed by some of the hardest-hitting fusion pieces in Snarky's arsenal from their latest release, Culcha Vulcha. The peaks and valleys created by bassist and bandleader Mike League's compositions developed an emotional experience akin to getting slapped in the face and hugged immediately afterward. Percussive starts and stops in the music had the crowd on edge for several individual moments within a single tune. Throughout these moments of unabashed virtuosity, each member of the band knew how to show off without losing any humility.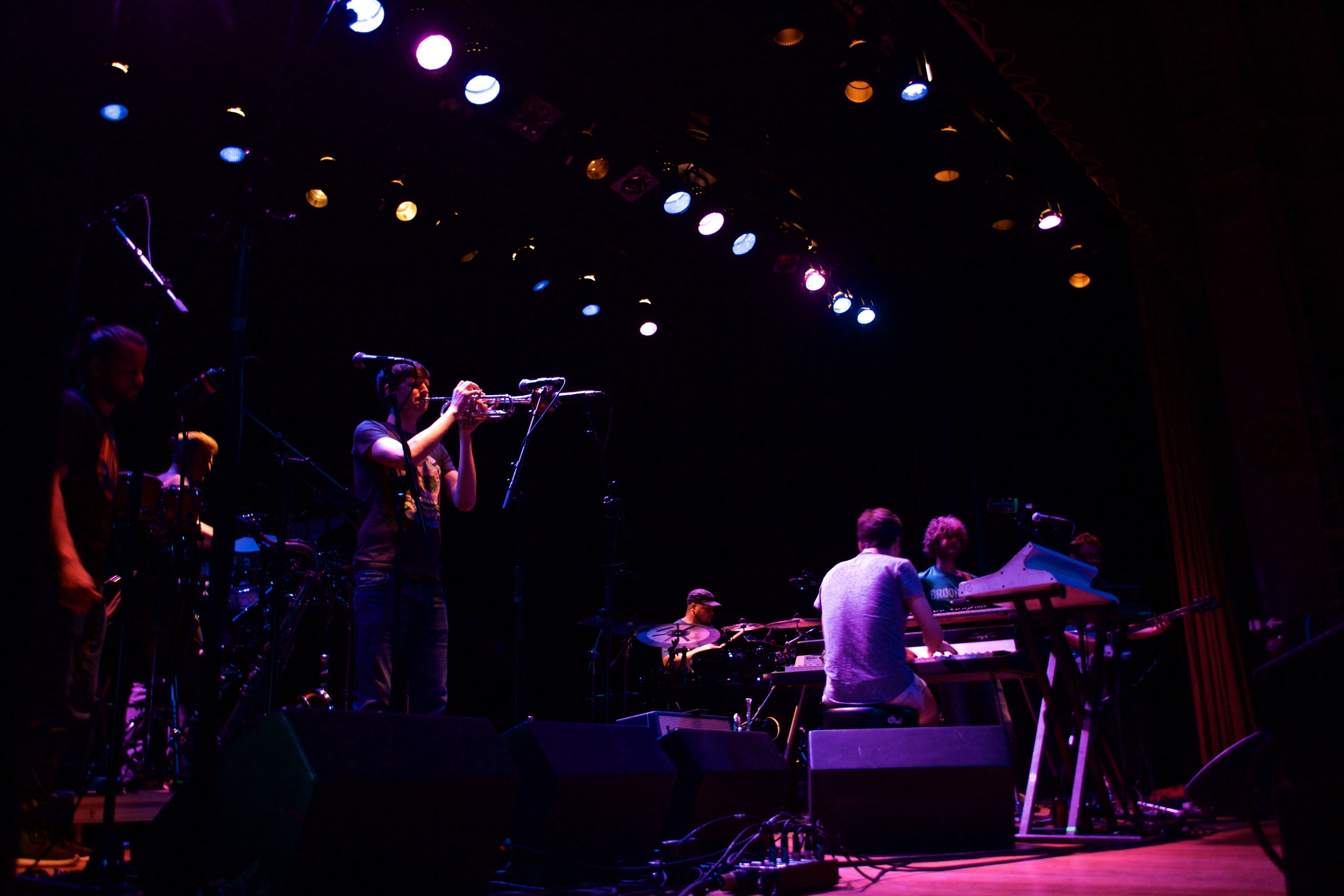 Despite missing a few of the all-star players that usually accompany the group, Snarky Puppy managed to win the crowd over by highlighting the star players they still had up on stage. The horn section, consisting of Jay Jennings, Mike Maher and Chris Bullock, glided into their notes like butter into beautiful legato harmonic resolutions. At the same time, the three horn players performed as individual soloists reminiscent of their fusion jazz forefathers. Percussionist Marcello Woloski and drummer Jason Thomas performed perfectly when in the background and during their features. There were drum battles that moved in and out of time with incomprehensible ease. Mike League played underneath the percussion with subtle grace, making full use of his individualistic approach to songwriting. League's ability to showcase the musicians on stage provided guitarist Bob Lanzetti with the space to mesmerize and captivate the audience with his solo.
The night's official set ended with an energetic swing/shuffle accompanied by massive Dixieland-style horns and a much deserved standing ovation. Unsurprisingly, the audience stood through Snarky Puppy's encore "What About Me?" The funky complexion of the song animated every listener, while maintaining a tight technical performance at its forefront. Snarky Puppy's show was an exemplary demonstration of musicianship. The group is a true champion of their craft.